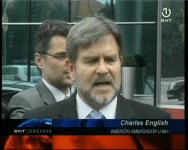 Ambassadors of the countries of the so-called Peace Implementation Council, PIC, which is overseeing peace implementation in Bosnia, will meet in Sarajevo today to discuss the escalating conflict between the Bosnian Serb leadership and the west's top envoy.
In the preparation for the meeting, US Ambassador to Bosnia and Herzegovina Charles English travelled to Banja Luka, in the Bosnian Serb-dominated Republika Srpska entity, where he met with all main Bosnian Serb ruling and opposition politicians and expressed unwavering American support for Bosnia's High Representative Valentin Inzko and his ultimatum to the Bosnian Serb leadership.
The new US administration is "deeply concerned" with latest escalation of tensions and the "new war" between Bosnian Serbs and Inzko, English told journalists after a Thursday afternoon meeting.
"This is a very serious issue for the United States of America and we want our position to be understood," English added.
Last week, Inzko issued a June 11 ultimatum to the Republika Srpska Assembly to abolish its May 14 declaration. The declaration calls for the Office of the High Representative, OHR, to halt the use of its sweeping governing powers and reverse all previous decisions. It also demands a recall of all competencies which have been transferred from the entity to the state level on orders of the OHR.
Claiming that this declaration challenges OHR authority and violates Bosnia's Constitution, Inzko marched into his first open conflict with the Bosnian Serb leadership since assuming the post in late March. If the west fails to fully support Inzko, like they did with his predecessor, Slovak diplomat Miroslav Lajcak, it could spell the end of the game for the flailing international presence in the troubled country.
On Wednesday, six main Bosnian Serb parties held consultations and snubbed Inzko's ultimatum. Instead of yielding, they asked Inzko to meet them and address the Republika Srpska Assmebly to explain his demands. Republika Srpska Prime Minister Milorad Dodik implicitly warned Inzko against using his broad governing powers.
Yet after his meeting with English, Dodik appeared to be a bit more subdued. Known for his radical and tough statements to media, Dodik refused to give any statements to reporters. Later, his cabinet issued a terse, matter-of-fact press release.
"The only normal way out of this situation is for everybody to present their positions and find a solution through dialogue. Confrontation is not a solution, because neither the international community nor Republika Srpska needs it," Republika Srpska Assembly Speaker Igor Radojicic told journalists on Thursday, after sending a letter of invitation to Inzko to visit Banja Luka.
While the OHR avoided commenting on whether Inzko would answer to the call, the US ambassador travelled to Banja Luka in an obvious sign of strong American support to the High Representative.
Ambassadors of the PIC countries today are expected to send a message of support to the OHR.