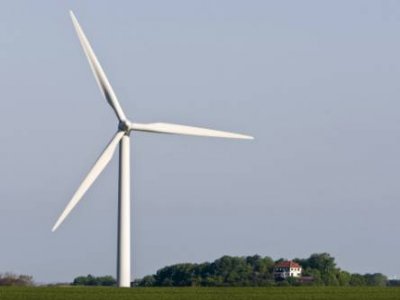 Advanced green technologies such as superheated solar towers and gas from trees can compete with industry-backed carbon-trapping technology for around $6 billion of European Union funding, an EU document shows.
Money could also go to giant wind turbines, made of space-age composites, nearly as tall as the 300-metre-high Eiffel Tower and three times more powerful than today's biggest.
The report lays out the principles the European Commission will use for dividing funding from the EU's Emissions Trading Scheme — where polluters trade permits to emit global warming gases — and gives the first list of eligible technologies.
The report could kick off a battle between Europe's nascent green industries, backed by environmentalists, and the giant utilities that back Carbon Capture and Storage (CCS).
"We think the majority should be earmarked for renewables," said Greenpeace renewables campaigner Frauke Thies. "CCS is risky and we don't know if they can deliver. But we know renewables can deliver and there is so much more potential."
British Prime Minister Gordon Brown played a key role in securing the funding during last year's EU climate negotiations, but the big winners from CCS are utilities such as Germany's E.ON and engineers like Alstom of France.
CCS, essentially burying harmful gases, is seen by some as a potential silver bullet to curb emissions from coal-fired power plants, which are multiplying rapidly worldwide and threaten to heat the atmosphere to dangerous levels.
Sharing the technology with China and India could also prove critical in securing their commitment to a new global deal on fighting climate change at talks in Copenhagen in December.
KICK-START
While the technologies exist, utilities are reluctant to build CCS power stations without public funding because the CCS component adds about 1 billion euros to the cost of each plant.
The European Parliament last year proposed billions of euros to help kick-start CCS, but could only get member states to back the proposal if the money was shared with new green technologies such as geothermal energy and concentrated solar.
Environmentalists argue that the companies lobbying for CCS in the EU made profits of over 90 billion euros last year and support is unjustified.
Many renewables on the list of eligible projects, obtained by Reuters on Tuesday, are at the very cutting edge, such as so-called concentrated solar power systems using lenses and mirrors to eke the most energy out of the sun's rays.
"The principle is that the extra funding is distributed proportionately between CCS and renewables, but departures from this can be justified by a lack of suitable candidate projects," said the report.
Environmentalists fear the fragmented renewables industry will fail to compete against utilities that have proposed clearly defined CCS projects, many of which received recognition in a recent EU economic recovery plan.
"The Commission is not saying how much funding is going into CCS and how much into renewables, and we think they should define that at the start," said Thies of Greenpeace.
The EU plans 10-12 CCS demonstration projects by 2015 to kickstart the industry. Operators will not be able to keep the knowledge gained in the pilot projects for their own commercial advantage, but must share it freely.