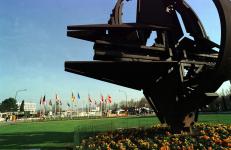 NATO is expected to cut its troop numbers in Kosovo by one third because of the improved security situation, US sources have said.
"NATO is working towards the next phase of its operations to a deterrence presence," the US official told journalists in Brussels.
NATO's Kosovo Force, or KFOR, entered Kosovo on June 12, 1999, under a UN mandate to end the conflict between Serbia and Kosovo Albanians. 
Kosovo declared independence in February 2008 and has since been recognised by 60 countries. Serbia, supported by Russia, has refused to recognise the former province's decision.
Despite sometimes violent protests in Serb dominated areas, particularly in Mitrovica, north Kosovo, since the declaration, the security situation has remained relatively stable.
The peacekeeping mission in Kosovo currently has about 15,000 troops on ground.
Sources from the alliance's headquarters claim that allies believe the security situation is stable and there is no need for such a large number of soldiers.
Those sources also confirmed that the highest NATO military authorities have already sent a report to member states calling for a cut in troops to 10,000. The report will be discussed at the forthcoming meeting of defense ministers on Thursday and Friday.
The Brussels-based US official said that ministers are expected to agree to the reduction.
"It is likely that the ministers will endorse that presence, which would mean a reduction of KFOR troops from about 15,000 troops today to 10,000 by January 2010," the official said.
NATO secretary General Jaap de Hoop Scheffer refused to comment on reports of a reduction in KFOR forces, arguing that, "any speculation about decision-making is premature". However, he confirmed that NATO defence ministers would discuss the future of KFOR in their meeting at the end of the week.
Scheffer told reporters at a Monday evening press conference in Brussels that any decision regarding KFOR would be the result of a "thorough military and political analysis" of the situation in Kosovo.
The NATO chief said that so far a decision had not been made and "for the moment, I will not speculate".