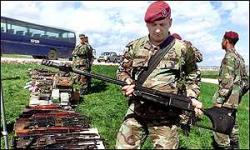 NATO will decide today to what extent it might reduce its troop presence in Kosovo during a meeting of defence ministers scheduled for this afternoon.
Currently, the alliance has 13,800 troops on the ground in Kosovo and it is expected that ministers will decide to reduce that number to 10,000 by January next year. 
NATO troops entered in Kosovo on June 12, 1999, after 78 days of air strikes on Serb positions aimed at halting ethnic cleansing against Albanians under the regime of Slobodan Milosevic. During the initial days of the conflict, NATO's peacekeeping operation had approximately 50,000 troops on the ground.
NATO officials say that any decision to further reduce the number of soldiers would be based on the military and political situation in Kosovo.
NATO's spokesperson said last Tuesday that ministers would discuss "the deterrent presence of KFOR".
Ambassadors of NATO member states on Wednesday prepared the paperwork for the decision, which is expected to be given formal approval by defence ministers today.