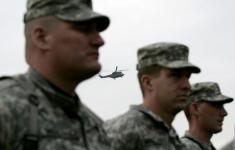 NATO Defence Ministers agreed yesterday in Brussels to reduce the KFOR troop presence in Kosovo, taking into account the steady improvement of the security situation there.
"The decision to gradually reduce troop numbers will reflect this [security situation] development," reads a report issued by NATO headquarters.
The ministers accorded that the transition of KFOR to a "deterrent presence" is to be implemented only gradually, indicating that there would not be a sudden withdrawal of large numbers of troops.
NATO Defence Ministers reaffirmed that KFOR would remain responsible for a safe and secure environment in Kosovo and would stay in Kosovo in accordance with United Nations Security Council Resolution 1244 as long as necessary, and until the UNSC decided otherwise.
Kosovo media report that if the security situation in Kosovo remains calm, NATO would reduce its troop numbers by up to 2,000. On the other hand, the Alliance has confirmed that KFOR troop numbers would remain at around 10,000 until January 2010.
Currently, the Alliance has 13,800 troops on the ground in Kosovo, and it is expected that ministers will decide to reduce that number to 10,000 by January next year.
NATO troops entered in Kosovo on June 12, 1999, after 78 days of air strikes on Serb positions aimed at halting ethnic cleansing against Albanians under the regime of Slobodan Milosevic. During the initial days of the conflict, NATO's peacekeeping operation had approximately 50,000 troops on the ground.