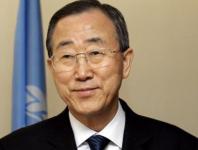 The UN Secretary General Ban Ki Moon has called on Kosovo's local institutions to take a more constructive stance towards UNMIK.
The call was made in a report for the Security Council which outlines the work of the United Nations Interim Administration Mission in Kosovo.
Kosovo authorities, according to Mr Ban, maintain minimal contacts with UNMIK's Special Representative, Lamberto Zannier, although Kosovo and UNMIK officials continue to cooperate.
Mr Ban wrote: "Kosovo's authorities continued to act on the basis of the Constitution of the Republic of Kosovo and made a series of public statements requesting UNMIK to conclude its mission, asserting that resolution 1244 (1999) is no longer relevant and that they have no legal obligation to abide by it.
"My Special Representative and international stakeholders encouraged Pristina to take a more constructive stance towards engagement with UNMIK."
The government of Kosovo has repeatedly called for UNMIK to end its presence in the country after the adoption of the constitution on June 15, 2008, and the arrival of EULEX, the European Union rule-of-law mission, and the International Civilian Office, ICO.
Under the six-point plan agreed by the Security Council after negotiations with Belgrade,1244 is the legal basis for EULEX's deployment throughout Kosovo. Technically, UNMIK remains the top legal body in Kosovo under 1244. But Kosovo's government argues that 1244 has been superceded by its constitution.
Balkan Insight revealed this week that UNMIK was making preparations for another two years in Kosovo with the ordering of at least two years worth of fuel.
A spokesman for the UNMIK said that the purchase of fuel did not indicate how long the mission would be staying, adding that its timetable was set by the Security Council.