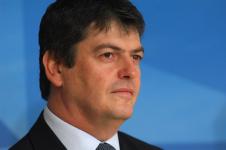 Albania's President Bamir Topi has invited the presidents of neighboring Macedonia, Kosovo and Montenegro to visit his country next week.
Topi is to host Macedonian President Georgi Ivanov, Kosovo's Fatmir Sejdiu and Montenegro's Filip Vujanovic in the town of Vlora. They are expected to discuss regional issues, according to Macedonia's Makfax news agency.
The two day meeting beginning June 23 is an opportunity for Macedonia's and Kosovo's presidents to settle issues after the Skopje diplomatic fiasco last month soured relations.
Last month Sejdiu canceled his visit to Macedonia after Skopje downgraded it from "official" to "working", citing that they had yet to establish full diplomatic relations with Pristina.
Skopje recognized Pristina's independence last year and has strong economic ties with it. However, it finds it difficult to balance relations with both Serbia and Kosovo.
Topi is not attending the summit of heads of state of South-East Europe currently under way in Serbia to show solidarity with Kosovo's uninvited president.