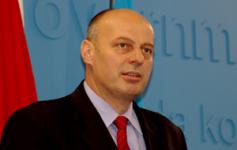 Former Prime Minister Agim Ceku returned to Kosovo on Tuesday after being stopped by Bulgarian authorities due to a warrant for his arrest issued by Serbia.
A Court in Kyustendil in Bulgaria has dismissed the charges in the arrest warrant against the leader of Kosovo's Social Democratic Party, PSD, the party said.
As a former commander of the Kosovo Liberation Army, KLA, Ceku is accused by Serbia of command responsibility for the deaths of 669 Serbs and 18 other non-Albanians. A court in Serbia has sentenced him to 20 years in prison in absentia.
PSD Spokesman Gezim Kasapolli told Balkan Insight last week that the Serbian charges against Ceku were an "attempt to discredit him and to create destabilisation in Kosovo".
Serbian President Boris Tadic on Friday demanded an explanation from Bulgaria regarding Ceku's release. Tadic said the way the Bulgarian authorities had handled the case "does not contribute to good relations". Meanwhile, Serbian Foreign Minister Vuk Jeremic described Ceku's release as a "great disappointment" and "a devastating blow" to international law.
In Sofia, Bulgarian Foreign Minister Ivalio Kalfin defended the authorities' decision, saying the ruling was based on existing judicial arguments. "This is a court matter and I would not like it to be turned into a political one," he told reporters.