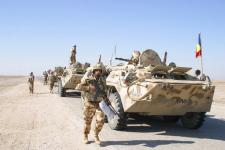 The number of Romanian troops serving in peace missions abroad will number only 1,667 next year following the pullout of troops from Iraq, the country's Supreme Defence Council, CSAT, decided on Tuesday.
Romania today has 2,067 troops in operation theatres in Iraq and Afghanistan, but a 500-strong contingent will be withdrawn from Iraq by the end of July.
President Traian Basescu, who is the leader of CSAT, said only 20 Romanian soldiers would remain in Iraq to help train the Iraqi army within NATO.
On the other hand, the President also said Romania would soon send an additional 108 troops to Zabul, in Afghanistan.
Romania, a NATO member, is one of several ex-communist East European countries that has kept soldiers with the United States-led Coalition forces in Iraq.