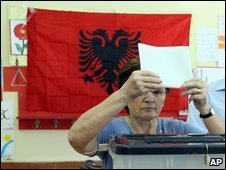 The governing centre-right party of Albania's Prime Minister has claimed victory in elections held last weekend.
With most results in, the Democrat party headed by PM Sali Berisha was narrowly ahead of its Socialist rivals, but possibly short of a majority.
However, the Socialists accused their rivals of manipulating the vote in order to win the election.
Election observers said the vote showed a marked improvement on previous polls, though there were still some concerns.
Mr Berisha said the results were a "vote of confidence" for his party and pledged that he would focus on moving Albania towards European Union membership.
"Integration is the main issue in the four years to come," the Associated Press news agency reported him as saying.
Albania joined Nato earlier this year and has filed for EU membership.
Too close to call?
Ditmir Busheti, a spokesman for the Socialist party, said party officials were investigation allegations of malpractice.
"The Democratic Party is in the process of manipulating the victory of the Socialist Party," AFP news agency reported him as saying.
"We are gathering all information confirming the manipulation of the results and we will not allow this process to be terminated until all fraud and manipulation" is revealed, he said.
With some 98% of ballot boxes counted the Democratic Party had 46.81%, narrowly ahead of the Socialists, led by Edi Rama, mayor of Albania's capital Tirana, who had 45.42%.
A leftist coalition was trailing a distant third with just under 6%, the country's electoral commission said.
Supporters of Mr Berisha had already taken to the streets after polls closed and preliminary results showed the Democrats in the lead.
But Mr Rama served early notice of his party's intention to protest against any irregularities.
A spokesman for the electoral commission, Leonard Olli, told AFP on Wednesday: "You cannot claim victory until all of the ballots are counted, until the last of the votes has been counted."
Hundreds of international observers monitored the vote to avoid any repeat of problems seen in previous polls, which have been marred by violence.
The OSCE, Europe's human rights and security watchdog, said on Monday: "Election day was overall calm and peaceful and the atmosphere was improved [compared to previous elections]."
It said new voter registration and identification procedures were a great improvement, but that public confidence had been undermined by "the politicisation of technical aspects of the process and violations observed during the campaign".
After more than 45 years of isolation under Communist rule, the country's economy has slowly rebuilt itself.
Albania has not been as hard-hit by the global recession as many European countries but is still expecting a sharp drop in annual growth.