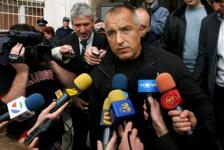 With nearly all ballots counted, Bulgaria's opposition Citizens for the European Development of Bulgaria, GERB, party, founded by Sofia Mayor Boiko Borisov, has 42 per cent of the vote, while the Socialist-led coalition has 18 per cent, according to local media reports.
Borisov is expected to be the next prime minister, if negotiations to form a coalition government are successful. 
According to an exit poll released yesterday, GERB may have enough lawmakers in the 240-seat chamber to govern alone, as the ruling Socialist-led coalition garnered fewer votes than anticipated.
Earlier, Borisov has said he was prepared to hold coalition talks with the nationalist Ataka party, which looks to have won some 9.4 per cent of the vote, and with some other smaller parties.
Experts believe that GERB could end up with around 141 of the 240 seats in Parliament, including 26 of the 31 direct votes allotted to the assembly. The Socialists are likely to win around 42 seats, the Movement for Rights and freedoms 35 seats, and the Blue Coalition 17 seats.
GERB said it would begin coalition talks later today.
On Sunday, Bulgarian President Georgi Parvanov said he was prepared to convene the new parliament on July 14 and ask the biggest party to form a government.
"The Socialists were defeated," Stanishev said at a news conference. "The economic crisis is one of the explanations. The accusation of a poor inheritance is unjustified. We leave the country's finances in a much better shape than many other countries in Europe."
During the campaigning, GERB pledged to root out corruption and drag the EU's poorest country out of its worst economic crisis in over a decade. Borisov promised to restore Bulgaria's access to EU aid.
The Socialist-led coalition was weakened by a severely deteriorating economy and voter fatigue, as well as chronic corruption. The Socialists had won the last election in 2005 with 33.98 per cent of the vote.
Last year, Bulgaria lost 430 million euros in EU funds due to poor government management and failure to successfully tackle corruption. An additional 300 million euros in EU funds for Bulgaria had been frozen.
On Sunday night, Bulgarian Prime Minister and leader of the Socialist Party, Sergei Stanishev, conceded the defeat. He praised his government's record in taking on difficult tasks and achieving economic and social reforms.