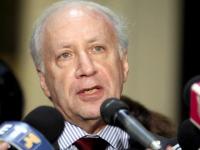 The UN mediator in the "name" dispute between Greece and Macedonia did not table any new proposals during his two-day visit to Macedonia, local media reported, but only "felt the pulse" of the local authorities.
On his arrival on Monday afternoon, Matthew Nimetz met with Macedonia's Foreign Minister, Antonio Milososki. Meetings with President Georgi Ivanov and Prime Minister Nikola Gruevski are set for Tuesday.
"I had very good and long talk with the Foreign Minister", the mediator said, when asked whether he had brought with him a fresh compromise proposal. Nimetz's next stop is Athens where he will consult with Greek officials.
Last year, the row soured relations between the two neighbouring countries when Greece blocked Macedonia's invitation to join NATO, citing the failure to resolve the name dispute. Greece claims that Macedonia's use of the term implies a territorial claim to the northern Greek province of the same name.
The most recent ideas to solve the row came at the end of last year when Nimetz, according to the media, offered both sides a possible compromise containing variations of the term "Northern Macedonia" – to distinguish the state from the Greek province. The media has speculated that the same proposal is still on the table.
Athens has warned that it will continue to block Macedonia's path to NATO, and possibly the European Union as well, until a compromise is reached.