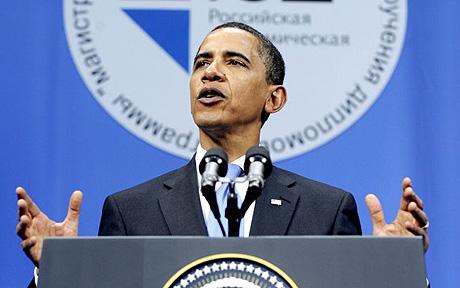 President Barack Obama courted the anger of his Russian hosts by defending Georgia's right to join Nato and criticising the Kremlin for seeking to dominate its neighbours.
He mounted a robust defence of Georgian and Urkainian sovereignty when he delivered the third major foreign policy speech of his presidency at a university graduation ceremony in Moscow.
But on the second day of a visit to the city he also sought to reach out to the Russian people. He insisted that a missile defence shield the US is considering building in Europe is not a threat to Russia.
"If the threat from Iran's nuclear and ballistic missile program is eliminated, the driving force for missile defence in Europe will be eliminated, and that is in our mutual interests," he said.
The comments were similar to those contained in a letter that Mr Obama wrote to Mr Medvedev in March. US officials, however, said that the statement did not amount to a deal offering to scrap the shield, which is currently under review, in exchange for Russian co-operation on Iran. They said the president was merely pointing out that the shield would not be necessary if the Iranian threat was removed in an attempt to show Moscow it had nothing to fear from those plans.
Georgia, which Russia invaded last summer, was a recurrent theme of Mr Obama's trip amid growing concerns that the Kremlin could be planning a second military campaign to oust Mikheil Saaksahvili, the country's pro-western president.
Mr Obama used his 31-minute address to graduates of the New Economic School in Moscow to remind President Dmitry Medvedev of America's support for Russia's neighbours. "State sovereignty must be a cornerstone of international order," he said. "States must have the right to borders that are secure, and to their own foreign policies.
"We must apply this principle to all nations, and that includes nations like Georgia and Ukraine."
Both states have applied to join Nato to the fury of the Russian leadership, which has unilaterally declared the former Soviet Union to be part of Moscow's "privileged area of interest".
But Mr Obama condemned what he called a "19th century" philosophy of creating rival spheres of interests before appearing to criticize Russia's attitudes to its neighbours.
"A great power does not show strength by dominating or demonising other countries," he said.
Seeking to balance a robust but oblique critique of aspects of Russian policy with an attempt to woo the Russian people into accepting his overture of friendship, Mr Obama also filled his speech with words of flattery.
He cosseted his audience with praise for Russia's heritage and contributions to science, quoted from Pushkin, Russia's most revered cultural figure, and paid soothing homage to the Soviet Union's contribution in the Second World War.
Even more importantly, he spoke of his "respect" for the Russian people, an attribute much craved in a country that hankers after a leading role on the world stage but is often plagued by doubts about its self-worth.
But the rhetoric of the Bush administration still lingered. Seeking to avoid what could be interpreted as a lecture on Russia's democratic failings, Mr Obama admitted America's imperfections but also insisted that freedom of speech, the rule of law and an independent media had all made the United States stronger.
"If our democracy did not advance those rights, then I, as a person of African ancestry, wouldn't be able to address you as an American citizen, much less a president," he said.
Before the speech Mr Obama had to navigate a tricky meeting with Vladimir Putin, the Russian prime minister.
Shortly before his arrival in Russia, the president had criticised Mr Putin as a man with "one foot in the past". By Mr Obama's own admission, the Russian prime minister was in an uncompromising mood.
"I found him tough, smart, shrewd, very unsentimental, very pragmatic," Mr Obama said after the private meeting. "And on areas where we disagree, like Georgia, I don't anticipate a meeting of minds any time soon."
Even so, after talks that overran by an hour, Mr Obama was reportedly convinced to reverse his opinions of the prime minister, an ex-KGB spy.
"I would say that he's very convinced that the prime minister is a man of today and has got his eyes firmly on the future as well," a US presidential aide told reporters.
It was unclear how receptive Russians will be to Mr Obama's message. In contrast to previous speeches the president has made abroad, Mr Obama's audience was polite rather than enthusiastic, limiting itself to a single round of applause at the end of the address.
Nor was the speech broadcast on any major Russian television channel, all of which are controlled by the state.
Similar addresses that Mr Obama gave in Prague and Cairo earlier this year, both of which gained widespread international attention, were also largely ignored by Russian television.
The snub, commentators say, is part of a deliberate strategy to avoid "Obamamania" in Russia and as such represents the American president's biggest hurdle in reversing the years of antagonism that have plagued East-West relations.
Mark Ournov, a leading political analyst in Moscow, attributed the general indifference to Mr Obama's visit on state television to the Kremlin's policy of still needing to present the United States as a threat to Russia.
"Anti-Americanism is the basis of a system that has been created to justify a return to authoritarianism," he said.
After Mr Putin's meeting with with Mr Obama, the Russian prime minister visited a Hell's Angels-style motorcycle club called the Night Wolves and boasted of recent wheelies he had performed. Russian television gave almost as much coverage to the event as it provided for Mr Obama's speech.