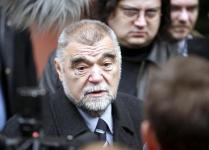 Croatian President Stjepan Mesic said in an interview on Croatian Television, HRT, Tuesday evening, that the program of new Prime Minister Jadranka Kosor cabinet should be modernized and that it will only survive if it makes some drastic cuts.
"Things that have been said in parliament and things that the prime minister is proposing are basically aimed at defending the old programme which should be modernised in a way," Mesic said.
Asked if the government had the strength to make radical cuts, the president said this was the only way for the government to survive.
"Otherwise, it is hard to predict how long can this government last," he added.
Asked if last week's Croatian Democratic Union, HDZ, convention, at which changes were made in the HDZ leadership, represented a step back in democratic standards, Mesic said the convention showed "a reduction of democracy".
"Proposing a prime minister and proposing a candidate for president of the republic, and all by acclamation, reminds us of some other times," Mesic said.
Asked if that meant that a right-wing stream had prevailed in the HDZ, Mesic said the party had most definitely been reformed during the rule of [recently resigned prime minister] Ivo Sanader who transformed a movement into a party, adding that now it seemed that some individuals were trying to transform the party back into a movement, which is not good.
Commenting on the establishment of the so-called third political bloc, Mesic said such initives were good because they are aimed at stopping bio-polarisation in Croatia.