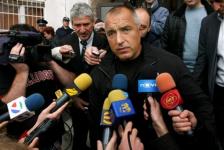 Bulgarian Prime Minster-designate Boyko Borisov, the informal leader of the GERB party, which won the July 5 general elections, suspended over the weekend the powers of the outgoing finance minister, banning him from signing any further contracts or agreements.
"I do not trust this person, [Finance Minister] Petar Dimitrov, and that's why I have suspended his powers to sign any documents," Borisov said in an interview with Bulgarian national radio on Sunday.
Borisov told The Standart news agency that he did not mind outgoing PM Sergey Stanishev signing an intergovernmental agreement on the Nabucco pipeline project in Ankara, today, but objected to the signing of an agreement on the connection of the gas transportation systems of Bulgaria and Greece. The project is expected to cost 100-150 million euros.
Bulgaria's future Deputy Prime Minister and Finance Minister Simeon Dyankov told The Standart that the outgoing government had conducted several financially bad moves, which would be revised when the new government is formed hopefully by the end of the month.
Dyankov said that during the last months of the outgoing cabinet, the Ministry of Economy and Energy signed agreements worth billions that undermined Bulgaria's state budget for years ahead.
He said that the biggest unnecessary spending was on the construction of the Belene Nuclear Power Plant.
"Over 250 million euros have leaked out of the Belene construction site into someone's pocket. It took more than 400 million euros to prepare the plant's construction site alone," Dyankov said.