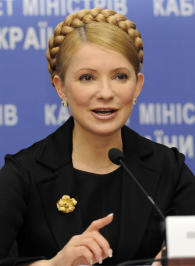 Ukraine has promised to raise household gas prices and enforce payment of bills to strengthen its national gas company and help it secure loans to avert a new gas crisis with Russia, an EU official said today.
Kiev hoped the pledge would boost the chances of progress at talks today between state-owned Naftogaz and international lenders such as the International Monetary Fund (IMF) which were hosted by the EU in Brussels.
The talks are intended to help Naftogaz pay its debts and prevent a repeat of a gas crisis in January, which raised tension with Moscow and cut off supplies of Russian gas destined for Europe during two weeks of freezing weather.
Payment difficulties in recent weeks have increased European fears of another gas crisis. Divisions in Ukraine's political leadership and the tension in relations with former Soviet master Moscow have heightened those concerns.
"Today's meeting is a further important step. We hope to make good progress on clarifying the detail, but we don't expect any major announcements," the EU official said to Reuters.
Ukrainian consumers may be forced to pay for their gas in advance, and companies that fail to pay their bills could be disconnected, the official said.
Mounting debts at Naftogaz threaten its ability to put gas bought from Russia into storage before the winter. It needs to do this to ensure steady flows to Europe during the cold months when consumption soars by about a third.
Ukraine needs at least $2 billion to do that, and is trying to borrow as much as $4 billion.
Good progress was reported after the talks with international lenders began on 29 June, but banks are wary of pouring money into Naftogaz without assurances that it will be radically restructured to cope with Ukraine's economic crisis.
The rivalry between Prime Minister Yulia Tymoshenko and President Viktor Yushchenko is another cause for concern, in a country lying between Russia and the EU and facing a presidential election in January.
At today's meeting, hosted by the EU's executive European Commission, lenders sought assurances that Naftogaz and Ukraine's energy laws would be reformed to ensure the state-owned company does not permanently bleed cash.
Ukrainian households typically pay less for the gas they consume than Naftogaz pays to get it from Russia.
Tymoshenko promised European Commission President Jose Manuel Barroso in a letter before today's talks that many gas tariffs would be raised to economically viable levels in the next 18 months, the EU official said.
She also pledged to create a system of pre-payment, a procedure for cutting off the gas supplies of industrial debtors and a method of enforcing gas contracts.
Tymoshenko said in the letter that energy laws would be overhauled and transparency improved and she responded positively to EU demands that Ukraine open up domestic gas exploration to foreign investment.