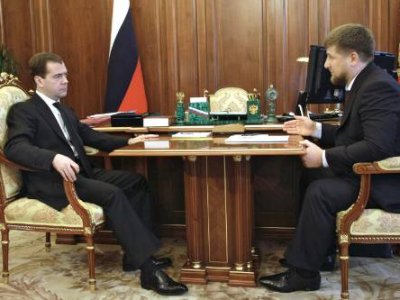 Chechen leader Ramzan Kadyrov will sue for libel a Russian rights group which has blamed him for the kidnap and murder of a prominent activist, Interfax news agency quoted Kadyrov's lawyer as saying on Friday.
Natalia Estemirova, who worked for the human rights group Memorial, was abducted in the Chechen capital Grozny on Wednesday, killed and her body dumped in Ingushetia. Memorial's chairman Oleg Orlov blamed Kadyrov, the Moscow-backed Chechen president, for her death.
"I know, I am sure of it, who is guilty for the murder of Natalia… His name is Ramzan Kadyrov," he said in a statement on Memorial's website www.memo.ru late on Wednesday.
Kadyrov's lawyer, Andrei Kreanenkov, told Interfax a lawsuit against Orlov was in the works.
"I prepared and will file a lawsuit to defend the reputation, dignity and business reputation of the Chechen President Ramzan Kadyrov," he said. "I am sure we will win the case."
Chechen officials and Memorial could not immediately be reached for comment.
Opponents accuse Kadyrov of massive rights violations in Chechnya, the scene of two separatist wars with Russia in the 1990s, and of tolerating no independent voices in the region. Kadyrov rejects the charges.
Estemirova's murder, the latest in a series of killings of journalists and human rights defenders in Russia, has drawn international condemnation.
Russian President Dmitry Medvedev condemned the killing on Thursday and described it as "a very sad event, linked to her professional activities". He promised a thorough investigation and punishment for the killers.
But Medvedev, who was speaking at a news conference in Germany, expressed doubt about Kadyrov's involvement and said the murder could have been a "provocation" against the Russian authorities.
"I think those who committed this … crime counted exactly on versions, most primitive and most unacceptable for the Russian authorities, to be voiced," he said. "This is, one may say, a provocation."
Kadyrov himself condemned Estemirova's murder on Thursday and promised to find those responsible.