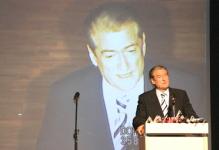 Albania's Council of Ministers decided on Wednesday to freeze all investments, from August 3, due to weakening revenue streams and higher expenditures in the run-up to the recent national elections.
With the June 28 parliamentary polls behind them, experts say Albania's politicians must initiate a candid debate on the local impact of the global downturn.
Speaking at a press conference on Thursday, Prime Minister Sali Berisha, denied that government investment was frozen due to budget shortfalls, saying that this was caused by his refusal to wait until September, when investment plans are redrawn, to form a new government.
"We cannot play the imaginary patient when we speak of the Albanian economy," said Berisha, who went on to project high economic growth in the second financial quarter.
However, according to Albania's Central Bank, economic growth this year is expected to be minimal, owing to the effects of the global economic recession.
Central Bank governor Ardian Fullani has repeatedly called on the government to exercise better oversight of public spending in order to boost investors' confidence in the economy.
Until recently, economic problems had been overshadowed by the general election campaign.
Two weeks ago Berisha urged ministers to "save money in a time of global crisis". This was the first implicit acknowledgement that the country is facing trouble, which economists have been warning about for months.
At the end of May, the government reported lower revenues from VAT, which is considered an important indicator of the level of domestic demand, and also from taxes on business profits.
Exports fell by 25 per cent during the same period while the foreign trade and overall budget deficits have widened.
The banking system has seen an explosion of bad loans and is facing financial losses for the first time since 1999.
While the government continues to base its spending on projections of 4.5 per cent GDP growth in 2009, international organisations, such as the IMF, predict that GDP growth will be a mere 0.4 per cent.