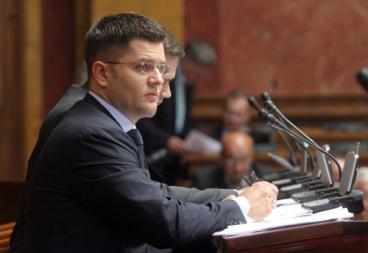 BELGRADE
Foreign Minister Vuk Jeremić says it is possible that an interim trade agreement with the EU could be unblocked by the beginning of 2010.
He said Serbia could also submit her EU candidature.The trade deal is part of the SAA – signed in April 2008 and immediately suspended pending Belgrade's full cooperation with the Hague Tribunal.
Jeremić told Belgrade daily Danas in an interview that he hoped a consensus would emerge in the country soon over the issue of EU, "as was done over Kosovo".
Jeremić stated that Kosovo's status question will remain open until after the International Court of Justice (ICJ) gives its opinion on the legality of of the ethnic Albanian unilateral declaration of independence of this Serb province.
The minister believes that Priština "will be cornered" and for the first time motivated to seek a compromise concerning the province's status.
Speaking about NATO, he said that Serbia's membership in the military alliance "is not on the agenda at all".
"The National Assembly adopted a decision with a clear majority that Serbia is militarily neutral. I do not expect that a revision of the state policy on that issue could happen any time soon," said Jeremić.