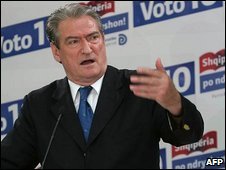 Albanian Prime Minister Sali Berisha's alliance has won enough seats to form a government, though it fell one seat short of a majority, officials say.The result means Mr Berisha's centre-right alliance will be forced to govern with a small left-wing party.
Election officials announced final results from the 28 June vote following a lengthy recount. The election was seen as a critical test for Albania's aspiration of joining the European Union. However, a preliminary assessment by a large observer mission criticised the vote, underlining widespread irregularities. 
In the results announced on Monday, Mr Berisha's Democrat party and allies won 70 seats in the 140-seat parliament. The opposition Socialists and an ally won 66. t leaves Mr Berisha's Alliance for Change one short of a majority, and it will have to govern in coalition with the small, left-wing LSI party.
It is the first time since the start of multi-party democracy in 1991 that a ruling party has been forced into a coalition.  The Socialists have complained of fraud, and hey will decide at a national congress on Tuesday how to respond to the result.
Our correspondent says Albania has never managed to hold an election that meets international standards – a condition of progress towards EU accession.
Criticism of the latest poll could mean the country's EU aspirations remain a distant dream, he says.