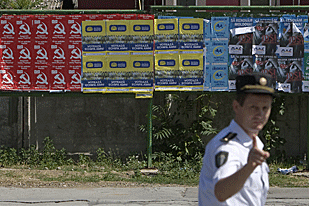 Moldovans have begun voting in parliamentary elections, three months after a disputed poll that sparked violent protests in Europe's poorest country. Exit polls gave the ruling Communist party a lead with around 30 per cent of the vote, but four pro-European opposition parties are also expected to win some seats.
Wednesday's election will determine who succeeds Vladimir Voronin, Moldova's president, who has ruled the former Soviet republic since 2001. The vote will also affect how the country steers its foreign policy towards Russia and the European Union.
New polls
Elections in April, in which the Communists won about 50 per cent of the vote, triggered huge street protests and riots, which left at least two people dead. Voronin called new elections in June, after politicians failed to elect a new president due to a boycott by liberal opposition parties.
Ten parties are contesting in the latest elections, with 2,000 polling stations open from 7am to 9pm (0400 GMT to 1800 GMT) for the country's 2.6 million eligible voters. Though political analysts expect the Communist party to lead the vote, it is unlikely to win the 61 out of 101 seats needed to fully control the selection of the next president.
Four main opposition parties are tipped to have a chance of passing the five per cent barrier to win seats, and are expected to form a coalition if they win a majority of seats. About 3,000 foreign and Moldovan observers are monitoring Wednesday's vote, in an effort to discourage any attempts at election fraud.