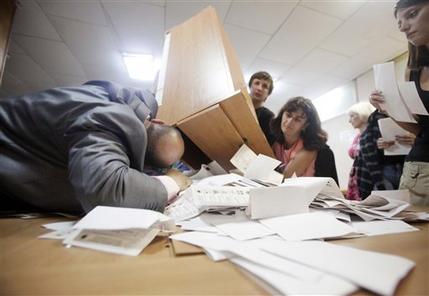 CHISINAU, Moldova
It may be the most enigmatic corner of Europe: a hardscrabble communist holdout run by a dour president who still keeps a bust of Lenin on his desk.
"Europe's largest illegal duty-free shop," a diplomat once called Moldova, known for rampant trafficking in arms, drugs, cigarettes and sex. But now that pro-Western parties have won national elections, big changes could be in store for the tiny ex-Soviet republic.
On Thursday, a day after their convincing victory in a parliamentary vote that international observers pronounced free of fraud, four center-right opposition parties set about forging a governing alliance to steer the country out of Russia's loose orbit.
They've already pledged more free market reforms, an independent justice system and greater press freedoms.
It's a potentially momentous shift for the last nation in Europe to be run by the Communist Party, which has held power here since 2001.
Yet much about Moldova remains a mystery – even to its neighbors – and the results of Wednesday's vote rekindled intrigue over the clannish country that for decades has languished on the fringes of Europe.
"It's a small country far away," said Janusz Bugajski, director of the New European Democracies project at the Washington-based Center for Strategic and International Studies. "It's almost a forgotten little corner of Europe. This election actually swung the pendulum in a more European direction."
By the numbers, it's a bleak place.
Moldova is Europe's poorest country, with an average monthly wage that's only $350 (euro245).
Officially, 620,000 of Moldova's 4.1 million people work outside the nation the size of Belgium or Massachusetts. Unofficially, the real number may be twice that. And many are young women working in the sex trade – some willingly, others enticed and then entrapped.
As tiny, poor and obscure as Moldova itself is, it's home to Trans-Dniester – an even tinier, poorer and more obscure separatist province that's a Russian-speaking Soviet-era relic.
Moldovan President Vladimir Voronin, a former baker who must step down after serving the constitutional maximum of two consecutive terms, and his Communist Party lost popularity as the global economic crisis inflicted fresh misery on a nation that can scarcely bear more hardship.
Voronin's 46-year-old son, Oleg, is one of Moldova's richest businessmen, with an estimated wealth of $2 billion.
Contrast that with the International Monetary Fund's recent warning that Moldova's gross domestic product will tumble 9 percent this year, and it explains why voters like Panteleimon Virtosu couldn't bear the thought of more communist rule.
"The people are simply tired of all this," said Virtosu, who ekes out a living in the capital, Chisinau. "We can't put up with this any more."
Frustration with the economic downturn – and anger over the opposition's insistence that the government had rigged elections in April – sent thousands protesters into the streets, where at least three were killed and several hundred arrested.
Those demonstrations gained international attention after some protesters used the social network Twitter to organize after cell phone networks crashed.
This week's election was unclouded by violence. The Organization for Security and Cooperation in Europe raised concerns Thursday about "subtle intimidation and media bias," but said its 300 monitors found no evidence to suggest major fraud.
With almost all the votes counted, the four pro-Europe parties – the Liberal Democratic Party, Liberal Party, Democratic Party and Our Moldova Alliance – won a combined 53 seats in the 101-member parliament, defeating the Communists with 48.
Vlad Filat, leader of the opposition Liberal Democrats, expressed hope Thursday that the Communists "will accept defeat and will withdraw into opposition and allow the winning forces to rule the country."
The pro-Europe victory likely also will help Moldova repair relations with Romania. Moldova imposed visa requirements on Romanians after Voronin accused the neighboring country of trying to overthrow his government during April 7 riots.
Moldova was part of Romania until 1940, when parts of the country were annexed to the Soviets under a pact with the Nazis. It gained its independence after the 1991 breakup of the Soviet Union.
Benita Ferrero-Waldner, the European Union's external affairs commissioner, called on all sides Thursday to pull together and form "a government able to tackle the economic crisis and address the many issues that will shape the future of the country."
Voronin acknowledged that a majority of the voters turned to the opposition, and on Thursday he pledged his party's openness to a "principled dialogue with all the political forces."
But the opposition will still have to reckon with the Communists, who are entrenched in Moldova's state institutions. Neither side has the 61 votes needed to elect a successor to Voronin, and that will be the reformists' first challenge.
"They have to decide how they want to work with the Communists, whether they want to sort of push them off the political cliff and leave them out in the wilderness or find some way of working with them," said Sam Greene, deputy director of the Carnegie Moscow Center.