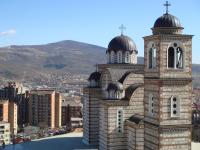 The idea of an exchange of territories between Kosovo and Serbia, circulating in the media, is wrong-headed, former envoy Albert Rohan believes.
Rohan, who served as the deputy special envoy for talks on Kosovo's status, was unequivocal in his rejection of territorial exchanges in an interview with Kosovo's Daily Express on Thursday: "My answer is very clear – no […] the exchange of territories is not a solution."
Rohan and then-chief negotiator Martti Ahtisaari led talks between Pristina and Belgrade on Kosovo's political status, under the supervision of the six member states of the Contact Group.
The idea of exchanging north Mitrovica and the Presevo valley was put forward earlier this week by US Congressman Dana Rochrabacher. Justifiying his proposal, Rochrabacher argued that the exchange would allow the normalisation of relations between Kosovo and Serbia.
Northern Mitrovica in Kosovo has a large population of Kosovo Serbs, many of whom live in areas administrated by Serbian institutions. Ethnic Albanians predominate in the southern Serbian town of Presevo and some nearby villages. Ethnic tensions are often high in both areas.
Referring to the territorial exchange proposal, Rohan said: "Neither privately nor officially was this idea present [in the status talks]. To me, this is completely new. No one has ever thought about this. It's a wrong idea," he said. Rohan added that similar ideas were expounded after the Second World War and are dangerous.
"I don't know how the exchange of territories would begin, because immediately […] you would have others asking for the same thing." Rohan said.
Even though neither Brussels nor Washington have conditioned Serbia's membership in the EU on a resolution of the dispute over Kosovo's status, according to Rohan, "no one in the EU wants to bring this conflict into the EU".
"I don't think it is possible for Serbia to join the EU without [Serbia reaching] some sort of accomodation on the existence of Kosovo as a country," he said.
The International Court of Justice (ICJ) is expected to rule on a Serbian challenge to Kosovo's independence declaration next year. While purely advisory, it is believed that the ICJ opinion will have an impact on relations between Serbia and Kosovo.
"One thing is for sure, Kosovo's independence is irreversible and nothing can change this," said Rohan.