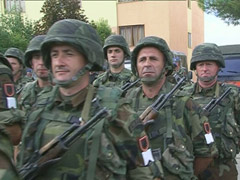 ALBANIA
Albania sent additional soldiers in Afghanistan.
The Albanian Prime Minister Sali Berisha participated in the ceremony for sending additional quota peacekeepers in Afghanistan.
The additional quota of Albanian troops in Afghanistan will be led by Italian forces and that is why the Italian Ambassador Sabah Delia said that we should contribute together for securing free and democratic parliamentary elections in Afghanistan set to be held very soon.