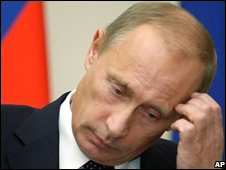 Russia is to spend almost $500m (£300m) next year reinforcing its military bases in Georgia's breakaway region of Abkhazia, the prime minister says.
Vladimir Putin's announcement came as he arrived in Abkhazia for talks. He said Russia was committed to defending and financing the small strip of land in Georgia's north-west corner.
Moscow officially recognised the independence of Abkhazia and South Ossetia following the war a year ago between Russia and Georgia. Apart from Russia only Nicaragua recognised the regions' independence in the conflict's aftermath; both areas are still widely held to remain part of Georgia.
Russian citizenship
While in Abkhazia, Mr Putin is expected to meet local leaders for talks on economic co-operation and other issues, the AFP news agency reports.
He began his visit by laying a wreath at a war memorial to remember servicemen who died in the 1992-1993 war between Abkhaz separatists and the Georgian government.
Speaking ahead of the trip, Mr Putin said Russia would deploy more forces in Abkhazia and build a "modern border-guard system" to guarantee the security of the two breakaway regions.
"All this will cost about 15-16bn rubles [$463m; £280m]," he said.
Moscow is rapidly establishing facts on the ground in Abkhazia following last year's war, says the BBC's Richard Galpin in the region's main city, Sukhumi.
The bulk of the money will be spent on military bases and strengthening the border between Abkhazia and Georgia, says our correspondent.
The Abkhaz government wants Moscow to build a big navy base south of Sukhumi, which could ultimately provide an alternative home for the Russian Black Sea fleet currently based in Ukraine, a senior Abkhaz official told the BBC.
Russia currently has about 1,000 troops in Abkhazia and about 800 in South Ossetia, Russian Deputy Foreign Minister Grigory Karasin said recently, adding that about 1,500 would be deployed in each territory by the end of this year.
Mr Putin also said Moscow was already helping finance the region's overall budget and was paying people's pensions.
A large proportion of Abkhazia's population has already been given Russian citizenship.
The build-up of Russia's military presence in Abkhazia and South Ossetia is regarded by Georgia as a clear violation of its sovereignty.
Last year's five-day conflict erupted on 7 August as Georgia tried to retake control of South Ossetia.
Russia quickly repelled the assault and pushed its forces deeper inside Georgia, before pulling back.