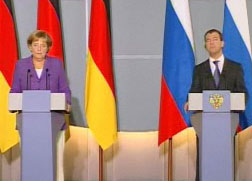 Friendly talks between the leaders of Germany and Russia have been dominated by trade and investment, but also covered human rights. President Dmitry Medvedev and Chancellor Angela Merkel met in the Black Sea resort of Sochi.
The Kremlin has said the global economic recession presents positive bilateral opportunities.
Medvedev said: "There has to be investment in economically under-active sectors — Infineon or Qimonda are examples — or for buying into Opel. These are high technology sectors, and that's what we lack in Russia, to improve structures in our economy." 
Merkel said she favours a Russian-backed bid by Canadian car parts maker Magna to buy control in Opel.
Yet she was also out in the open about concerns over murders in the North Caucasus region.
She said: "I've made clear once again that we strongly condemn this, just as the Russian side does. I know that the president takes the human rights matter seriously. I think it is very important, and in our common interest, that non-governmental organisations should be able to work in Russia."
The dangers of lawlessness have placed some areas out of bounds for aid workers. Medvedev said the murders were aimed at undermining stability in the region.