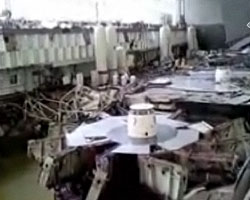 RUSSIA
8 people have been killed and many remain unaccounted for following a deadly explosion at Russia's largest power plant.  At least 68 people are still missing after water flooded the turbine hall at the Sayano-Shushenskaya dam in the Siberian region of khakassia.
Production at the plant has been halted but officials say there is no danger of the dam bursting. 
Russia's Emergency Minister Sergey Shoigu said: ''There was and there is no chance of destruction. There was a hydrolic surge in the zone of the second unit. As a result the wheel was damaged and water rushed into the machine hall. All ten units seized but the water fault is controlled.''
Despite authorities saying there was no risk to towns downstream, panicked residents in the shadow of the soviet era dam reportedly fled the area.
Electricity has been cut to major aluminium and steel plants in the region forcing them to switch to alternative supplies.