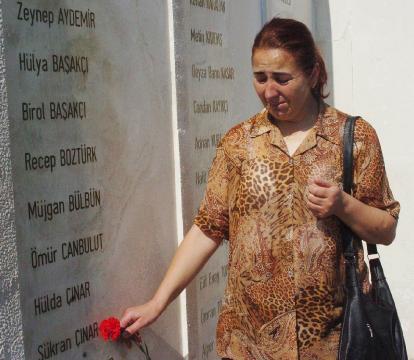 TURKEY
Thousands swarmed the streets of cities and towns of the northwestern Marmara region early Monday morning to commemorate the memories of those who died in the Aug. 17, 1999 Marmara earthquake.
The earthquake measuring 7.4 on the Richter scale hit Turkey's northwest, its epicenter in the Gölcük region in Kocaeli province, at 3:02 a.m. on Aug. 17, 1999, killing 17,480 according to official figures. The eventual death toll was widely accepted in the tens of thousands.
The numbers of those attending various commemoration ceremonies were fewer than in previous years, said reports.
At the ceremony in Gölcük, the local mayor was assaulted by a man who said he had lost his shop in the earthquake, reported Doğan news agency. Gölcük Mayor Mehmet Ellibeş spoke at the ceremony and said yesterday's lessons should be used to shape the future. After the ceremony, Ellibeş was approached by a man who asked what the mayor would be doing about the shop he lost, hitting Ellibeş in his chest. The man was detained, while the mayor said: "The trauma of the earthquake doesn't go away. What happened is normal."
Many people visited the graves of those they lost and monuments with the names of those lost in the earthquake on Sunday and Monday.
At the ceremony in Adapazarı, a campaign started by the local football teams' fans, "10,000 people for the 10th anniversary," proved a disappointment when local officials failed to turn up and only around 600 people attended the ceremony.