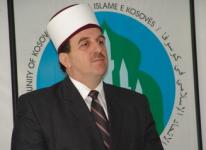 PRISTINA, Kosovo
The head of the Islamic Community of Kosovo, ICK, claims that a number of Arab states will recognise Kosovo shortly.
"I cannot be certain when, but […] in the remaining part of the year, Kuwait, Qatar, Yemen and Oman will recognise Kosovo's independence," Naim Ternava was quoted by daily Kosova Sot as saying.
He said that he hopes other Arab and Muslim majority states would follow suit.
Ternava said that ICK contributed to the lobbying efforts amongst predominantly Muslim states that encouraged the four Arab countries to consider recognising Kosovo. He said that these efforts would continue.
As of today, 62 countries have recognised Kosovo's independence. The most recent was the Dominican Republic, which recognised Kosovo on July 11, 2009.