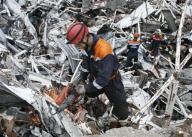 RUSSIA
Chechen fighters said in a letter posted on a rebel website that they had used an anti-tank grenade to cause a disaster at a massive dam in Siberia this week presumed to have killed over 70 people.
"Glory to Allah, on August 17 through our efforts, a subversive operation was carried out in Khakasia at the Sayano-Shushenskaya hydro-electric dam," said the letter from a group calling itself the Martyrs' Battalion.
"In the machine hall we managed to plant an anti-tank grenade with a timer, the blast of which caused much stronger damage than we could have hoped for," said the letter.