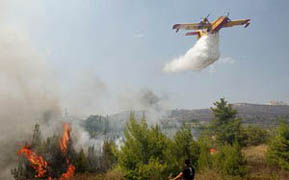 GREECE
Hundreds Greek fire fighters were deployed in the wildfires nearby Athens and together with the support of foreign teams and planes they managed to localize the fire, which destroyed almost everything around the capital.
The situation improves; there is no active front in the region of Athens, the Spokesperson of Greek fire service Janis Kapakis said.
An exception is the active hot spot in Boeotia, 60 kilometers west from the Greek capital Athens.