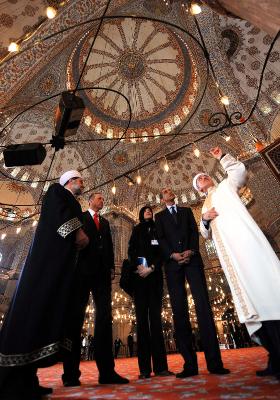 TURKEY
An increasing number of Anatolian cities have been included on itineraries of visiting politicians and diplomats, contributing to the global promotion of Turkey through "political tourism," according to tourism officials.
"It contributes a lot when world leaders visit beautiful places in our country and they are broadcast on or published in the foreign media," Timur Bayındır, chairman of the Turkish Hoteliers' Association, or TUROB, told the Hürriyet Daily News & Economic Review in an interview.
"For instance, we saw a notable increase in the number of American tourists following former U.S. President George W. Bush's visit in 2004. After the pope paid a visit here, many more came from Europe to see the same attractions," he said.
Pope Benedict XVI visited Kuşadası, a tourist destination that is home to the house of the Virgin Mary, a holy place for Christians, in 2005.
During U.S. President Barack Obama's trip to Turkey in April, his visits to Istanbul museums, mosques and other attractions were broadcast on almost every important television channel and reached the entire world. Queen Elizabeth II's visit to Bursa in 2008 and Prince Charles' trip to the Dardanelles and İzmir are other good examples of the trend.
"In terms of tourism, the results of such visits are satisfying. Tourists who want to feel the same atmosphere include Turkey on their holiday programs," Bayındır said.
Summit tourism
International summits are another important contributor to the tourism industry. Istanbul is getting ready to host officials from 20 countries and six international organizations at the second ministerial meeting of the Friends of Democratic Pakistan, which will meet in Turkey's biggest city Monday and Tuesday. But the city's real challenge will be the October meeting of the International Monetary Fund, or IMF, and World Bank, which is expected to draw more than 15,000 participants.
"Visits by well-known figures, along with holding NATO or IMF summits here contribute a lot to Turkey in terms of advertisement and reputation," Bayındır said.
Tourism officials also said world leaders' interest in discovering authentic Turkey is good not only in terms of increasing tourism revenue, but also for introducing unknown parts of the country to the rest of the world.
"For example, the Dutch people learned what mantı is when Dutch Queen Beatrix tasted it during her visit to Kayseri," İbrahim Yazar, the deputy general manager of the Culture and Tourism Ministry's publicity administration, told the Daily News. Mantı is a ravioli-like dish served with yogurt.
"Foreign media show huge interest in visits by kings, queens, presidents and other well-known figures," Yazar said. "Apart from official meetings in Ankara, more visits to places like Beypazarı, Nevşehir and Konya should be included in their programs."
Official data show such publicity has helped the Turkish tourism sector weather the global economic downturn. "It is a reality that such visits result in considerable publicity, which we cannot reach through big advertisement campaigns," Yazar said.
Davutoğlu's impact on Konya
During his term as foreign minister between 2003 and 2007, President Abdullah Gül was one of the Turkish leaders who paid great attention to adding other cities to the programs of visiting leaders. But Gül was often criticized for favoring his hometown of Kayseri, where a number of foreign ministers and top diplomats visited and held meetings with local industrialists to create an environment for business deals.
These days, it seems Kayseri's role is being stolen by Konya, a central Anatolian town known for its cultural sites and as the hometown of current Foreign Minister Ahmet Davutoğlu.
Davutoğlu will take his Pakistani counterpart Shah Mehmood Qureshi on a one-day cultural tour of Konya on Wednesday, following the Istanbul summit on Pakistan.
A sister-city agreement is expected to be signed between Konya and Pakistan's Multan during the visit.
Local officials involved with organizing Qureshi's agenda told the Daily News that Mayor Tahir Akyürek will present English and Urdu versions of "Mesnevi," a book of spiritual and literary rhyming couplets written by the poet and philosopher Mevlana Celaleddin Rumi in the 13th century.