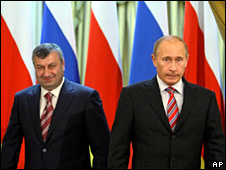 RUSSIA
Russia's prime minister has vowed to protect the breakaway Georgian regions of South Ossetia and Abkhazia, a year after it recognised their independence. Speaking at the opening of a direct gas pipeline to South Ossetia, Vladimir Putin said his country would not allow any "military escapades" by Georgia.
The two fought a war last year, during which Georgia's attempts to regain control of South Ossetia were repelled. Earlier, Russia's military said it had halved its presence in the two regions.
Gen Nikolai Makarov, the chief of the general staff, announced that Russia now had about 1,700 troops deployed in South Ossetia and a similar number in Abkhazia.
'Risk of disruption'
At the inauguration ceremony for the new pipeline in Moscow on Wednesday, Mr Putin said Russia would defend the independence of both South Ossetia and Abkhazia, which it officially recognised for the first time after last August's war.
"I'd like to emphasise once and for all – Russia will not allow any attempts at revenge or new military escapades," he told the South Ossetian leader, Eduard Kokoity.
Georgia's government insists its assault was a response to a secret Russian invasion, and considers both breakaway regions part of its territory.
The rest of the international community, with the exception of Nicaragua, has also refused to recognise their declarations of independence.
Mr Kokoity thanked Mr Putin for his support and criticised Nato and the United States for training the Georgian military, a move which he said might prompt further conflict.
"What Russia and personally you, Vladimir Vladimirovich, have done for our small nation will be remembered by our people forever, for generations ahead," he said.
"Decisions you have taken saved a whole nation from extermination."
The new 163km (98-mile) pipeline, which cost $476m, passes through the southern Russian republic of North Ossetia. South Ossetia has until now received Russian natural gas via a pipeline passing through Georgia proper.
The Russian gas giant, Gazprom, said the venture was vital since supplies passing through Georgia carried "high risks of disruption due to geopolitical reasons".