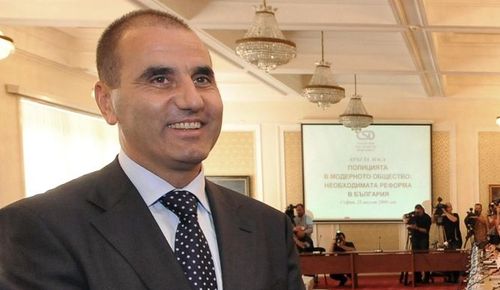 BULGARIA
Former government ministers will be indicted in the next few days, Bulgaria's Deputy Prime Minister and Interior Minister Tsvetan Tsvetanov said on September 3 2009.
Tsvetanov declined to give names, saying that it was up to prosecutors to complete the indictments.
Bulgarian news agency BTA reported Tsvetanov as telling journalists that anyone who had overstepped the law should be held accountable and the sense of impunity in the past 20 years had made Bulgarians mistrust institutions.
The announcement came a day after Bulgaria's Parliament voted to set up a special 12-member multi-party committee to investigate spending, appointments and deals made in the final year in office of the cabinet headed by Bulgarian Socialist Party leader Sergei Stanishev.
Known as the "Stanishev Committee", it is chaired by Stoyan Mavrodiev of Boiko Borissov's ruling party GERB, which swept the Stanishev tripartite coalition cabinet from power at the July 5 2009 national parliamentary elections. The special committee will have a term of office of two months.
Meanwhile, Dnevnik reported on September 3 that 80 municipal water infrastructure projects agreed to by the former administration of Bulgaria's environment ministry have undergone exorbitant upward cost revisions, according to a check into ongoing projects initiated by Enviromnet and Waters Minister Nona Karadjova.
The bulk of the dubious projects were scattered in strongholds of predominantly Turkish ethnic party Movement for Rights and Freedoms (MRF) and public procurement procedures were riddled with violations.
The ministry has halted a separate 287 projects with a total price tag of 159 million leva. For some of them, pen has already been put to paper but construction work and payments are yet to begin.
The administration has referred the projects to the economic police force, which has already started an investigation.
The list includes the controversial construction of the water and sewerage system in Dulovo, northeastern Bulgaria, which won 37 million leva financing under the environment operational programme of the European Union.
The contract was awarded to a company whose commercial director, Sali Tabakov, is the brother of mayor Mithat Tabakov. Payments were already underway before the project was suspended by Bulgaria's competition watchdog in June.
Another controversial project on the list is in the eastern Bulgarian municipality of Ruen, which plans to build a water and sewerage system and a waste water treatment facility in Lyulyakovo village with a population of 2500.
One of the 14 projects that caught Brussels' attention with mind-boggling price tags, the project has obtained 40.5 million leva, far more than the 500 euro per capita economic efficiency standard set for the country.