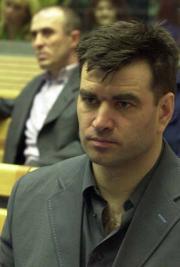 SERBIA
The Supreme Court will continue to hear Milorad Ulemek and Zvezdan Jovanović's appeal against their conviction for the murder of late PM Zoran Đinđić today.
The public part of the trial began yesterday in a courtroom at the Belgrade District Prison with a statement by Judge Bata Cvetković (presiding) regarding the first- and second-instance verdicts.
Of the eleven suspects found guilty in the case so far, Ulemek and Jovanović received the longest sentences, of 40 years in prison each.
Ulemek walked out of the courtroom at the start of yesterday's hearing.
None of the judges in this appeal took part in any of the preceding trials involving the two chief suspects.
Ulemek and Jovanović were initially sentenced to 40 years behind bars by the Special Court, a ruling that was subsequently upheld by the Supreme Court. Individuals receiving the maximum prison sentence are entitled to a third-instance appeal. Ulemek was found guilty as the mastermind of the killing and Jovanović as the assassin.
The Supreme Court will deliver its ruling at the closed part of the trial. If it upholds the verdict a second time, all further avenues for appeal will have been exhausted and the verdict will be considered final.