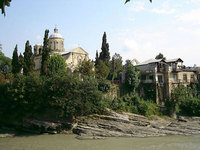 GEORGIA
The USA passed a new border checkpoint in Kazbegi to the Georgian Government on September 4. It was opened by U.S. Ambassador to Georgia John Tefft.
Georgian Minister of Finance Kakha Baindurashvili, heads of Border and Patrol Police – Zaza Gogava and Giorgi Grigalashvili attended the opening of the station in Kazbegi.
The station was built for future security and prosperity of Georgia, U.S. ambassador said. "The USA hoped that checkpoint in Kazbegi will promote economic development on both sides of the border in future.
At present, the border is closed, but the USA hopes that Georgia and Russia will restore commercial and tourist relations and Kazbegi station will contribute to safe movement of people and goods between two countries", he said.
The Ambassador expressed his hope that a new facility will provide all conditions for border police and the Georgian Ministry of Finance. He thanked 'Imagestroitel' company which has performed operations at the high level.
Tefft said that he will leave Georgia on September 8, but is keen to visit Georgia and not to break his contacts with Georgian friends in future.
Head of the Georgian Border Police Gogava thanked the USA for its support. "We are grateful to the U.S. authorities for its assistance in strengthening of the Georgian statehood," he said.
About $2.4 million was spent on construction of Kazbegi border station. It is one of 18 border facilities, which were ffinanced by the program on security and strengthening of Georgian border. Four check-points are included in these 18 facilities. The U.S. government finances the program on security and strengthening of the Georgian border. The purpose of the program is to assist Georgian border agency in better equipping and strengthening of border security. New check-points, built within the program, control 90 percent of border in Georgia.
The U.S corps of army engineers headed with construction of border station of Kazbegi.
New traffic stripes were marked. Modern equipment was installed. Buildings and offices for employees of the patrol police and Georgian Revenue Service will be built.
The modern device revealing radiation was installed under the leadership of the U.S corps of army engineers at the check-point. The U.S. Department of Energy has bought it for this project.
Program on security and strengthening of the Georgian border have financed other 3 projects. It is the main checkpoint of Georgia on the border with Armenia – Sadakhlo, as well as checkpoint "Red Bridge" and "Lagodekhi" on the border with Azerbaijan. Cost of 4 checkpoints was $5.75 million including Kazbegi.