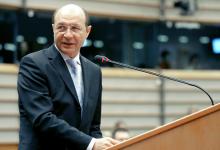 ROMANIA
Romanian President Traian Basescu will give a keynote speech to parliament on September 15, addressing the primary political and social issues facing the country.
On Monday, the leaders of the country's bicameral parliament decided Basescu would address the legislature on the same day the government takes responsibility for three key pieces of legislation.
The three bills will rejuvenate the antiquated education system, impose a new wage scheme for state employees and reform the bloated public sector, through cutting the number of state-controlled agencies.
These measures are in the service of wider IMF-prescribed reform goals, linked to a 20 billion euros aid package.