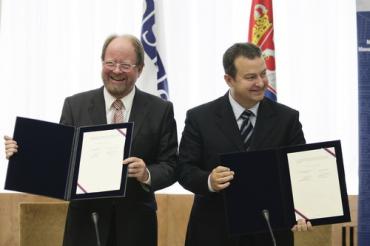 SERBIA
Interior Minister Ivica Dačić and OSCE Mission Chief Hans Ola Urstad have signed an agreement on a strategic partnership and priorities in police reform.
Dačić said that the agreement was important for visa liberalization, as the strategy it contains will enable the implementation of all the remaining criteria from the EU road map for visa abolition.
"I want to stress that other states come on board very often through cooperation with the OSCE. So, development and bilateral relations and ties with European police forces is an added value and a contribution that stems from the approach that the OSCE mission practices, with which we're especially pleased," said Dačić.
"There are so many areas where the Serbian police have worked. I think there's been a lot of progress. But there are certain things that should be done and that's why we need this memorandum. Without any doubt, Serbia is moving unbelievably quickly towards modern policing standards with high standards," stressed Urstad.