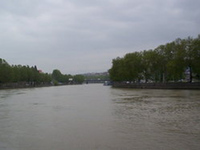 GEORGIA
The level of pollution of the Azerbaijani Transboundary Rivers by Georgia and Armenia exceeds the norm.
The Azerbaijani Ecology and Natural Resources Ministry held a monitoring to study the level of pollution of transboundary over the first ten days of September. The ministry revealed out that the level of pollution the Kur and Araz Rivers by Georgia and Armenia exceeded the norm.
Amount of nutrients in the waters of the Kur exceeds the norm numerously due flow of domestic and industrial wastes from Georgia and Armenia to water facilities without preliminary treatment. Composition of specific contaminants of phenol and copper compounds exceeded the allowed density norm in water.
In the Shikhly-2 area content of phenols, one main pollutants of water exceeded the allowed density by 4 times, ammonium ions by 1.6 times and copper compounds by 6 . Content of phenols exceeded the allowed density by 3 times and copper by 6 times in the Agstafachay area and 4 and 6 times respectively in Agstafachay reservoir.
According to the monitoring, the water waste in the Araz River transbordering with Armenia was 44.2 cubic meters per minute and content of copper in the water exceeded the allowed density by 4 times and phenols by 3 times in Horadiz section of the Araz River, the Shahsevan I and in Bahramtapa.
Azerbaijan ratified the Helsinki Convention on protection and use of water drainage and international lakes, passing the border to solve the problem of transboundary water basins at the regional level in accordance with international standards. The problem exacerbates the fact that Armenia and Georgia have not joined this convention.