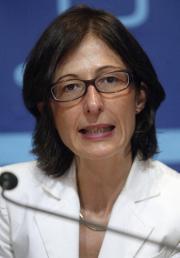 The Hague Tribunal has found former prosecution spokeswoman Florence Hartmann guilty of contempt of court and fined her EUR 7,000.
Hartmann was accused of revealing details of the Slobodan Milošević case in her recently published book.
The court ruled that she had deliberately perverted the course of justice by publishing confidential information in her book "Peace and Punishment" and in an article published by the Bosnian Institute.
The court stated that this kind of conduct could deter states from cooperating with the Hague Tribunal.
In sentencing, the court took into consideration the defendant's cooperation with the court, the fact she had no criminal record, and the fact that the book had sold few copies.
The spokeswoman to former Hague Chief Prosecutor Carla Del Ponte said in her defense that the details she had revealed were already known to the public before her book had been published.
"The verdict is not only related to my case, but to the fundamental principle of journalism and freedom of expression. The verdict will show whether the Hague court believes that stating facts that are already in the public domain and that might annoy certain people can be defined as a crime or not," she had said prior to the verdict.
"It is necessary to discourage the accused or any person from disclosing confidential information in future," presiding Judge Bakone Moloto said after the verdict was read.