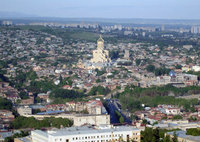 GEROGIA
This morning, the Georgian delegation has left for Switzerland, where it will participate in meetings to resolve conflicts in the Caucasus under the Geneva format. Representatives of Georgia, Russia, Abkhazia, South Ossetia, as well as EU, UN and the U.S will attend the traditional meetings under the Geneva format.
The Georgian delegation was headed by the Georgian Deputy Foreign Minister, Giga Bokeria. The delegation includes the heads of government in-exile of Abkhazia and South Ossetia, Gia Baramia and Sanakoev.
Gia Baramia told the journalists at the Tbilisi airport that Georgia during the meeting on Sept. 17 will raise the issues of safe movement of citizens in conflict zones, ensuring their safety and implementing the UN General Assembly resolutions on refugees' right to return to their homes in the "occupied territories".
Baramia also noted that the fact on banning teaching of the Georgian children in Abkhazia in their native language will also be discussed.
"All these issues concern the Georgian side and they will be discussed", – he said.