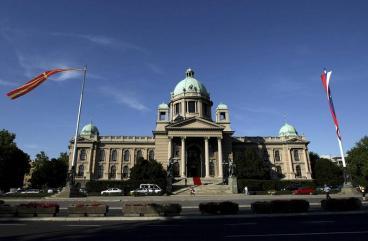 ROMANIA
Late on Tuesday, the Romanian government called for a confidence vote on three key laws. mandating major budget and public sector employment cuts.
Shortly thereafter, President Traian Basescu addressed the house, urging the current centre-left coalition to maintain its unity, saying it represents a "necessary political compromise".
Referring to the public sector, Prime Minister Emil Boc told legislators that the three laws "displease certain categories of staff because they remove privileges and restores balance to a chaotic system".
The government move has sparked tensions. Around 2,000 people protested in front of the parliament building on Tuesday afternoon and fresh demonstrations have been announced for early October.
Romania is trying hard to reduce public spending in an effort to speed IMF-prescribed reforms, linked to the receipt of a 20 billion euros aid package. Romania received a first tranche, worth around five billion euros, in May. The further release of funds depends on positive quarterly reviews of the deal.
The confidence vote, which will take place by the end of this week, is seen as a key test for the ruling coalition, as some MPs from the leftist Social Democrats are opposed to the proposed reform package.
In his speech, Basescu addressed the primary political and social issues facing the country, while presenting a list of 23 medium-term priorities he will pursue, including constitutional reforms and a fiscal responsibility law.
"Constitutional reform […] is needed to create a single-chamber parliament; to [make] clear the relationship between state powers and the head of state, as well as that between state powers and society," he said.
Other medium-term priorities presented by Basescu include: pension system reform, the decentralization of the public sector, increasing local autonomy, and switching to the euro in 2014.