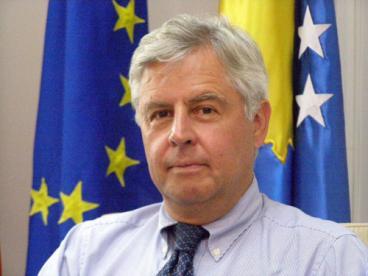 KOSOVO
Pieter Feith says that three new Kosovo municipalities and one expanded one will be constituted straight after the local elections on November 15.
According to the International Civilian Representative's (ICR) press bureau, Feith said that preparations were complete in the new municipalities of Gračanica, Klokot-Vrbovac, Ranilug, as well as in the expanded municipality of Novo Brdo, of which Kosovo President Fatmir Sejdiu had been informed.
"The creation of these new municipalities is a major step forward in exercising the right of the Serb community in Kosovo and its integration into a single system of local self-government in Kosovo," said the ICR.
"These municipalities will have the same authorities as all other municipalities in Kosovo and will assume certain extended powers, including protection of religious and cultural heritage and appointments of local police commanders," said Feith.
He said that hoped that people in the new municipalities would "take the future into their own hands" and vote in the November 15 elections.
"That's the best way to make your community stronger. In places where preparations for the creation of new municipalities haven't progressed, citizens will of course be able to vote in existing municipalities. No-one will lose the right to vote," the ICR stressed.
Feith said that he expected progress in the continued decentralization process in Parteš and northern Kosovska Mitrovica, where elections will be held by May at the latest.