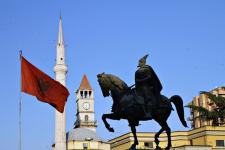 ALBANIA
Albanian academics in Tirana have slammed a new encyclopaedia published by the Macedonian Academy of Sciences, MANU, which describes the country's ethnic-Albanians as "settlers".
Adding his voice to a growing number of academics, politicians and NGO members who have sharply critcised the encyclopaedia, the Deputy Head of the Albanian Academy of Sciences Muzafer Konkurti in an open-editorial for the Tirana daily Shqip called the publication "a manipulation of history, anti-scientific and with a clear political background".
For historian and veteran politician Sabri Godo "such a publication aims to destroy the peaceful coexistence between Albanians and Macedonians".
Pullumb Xhufi, another historian and politician, recalled that the same academy in 2001 had published a policy paper arguing in favour for the partition of Macedonia. Calling the academy "intolerant", Bufi noted that the Macedonia Academy of Sciences does not recognise the coexistence between Slavs and Albanians.
Going further, Dritan Egro a researcher and professor of Ottoman History in the University of Tirana, said to the daily Shekulli, that such a publication "is out of place", considering that Albanians have documented their presence in the Balkans back to times before Macedonia is "even mentioned".
Well known Albanian writer Dritero Agolli, told the newspaper Bot Sot, which is published in New York that the encyclopaedia "was and offense to the Albanian nation".
"This publication is nothing less than a manipulation of Albanian and Balkan history," he added.