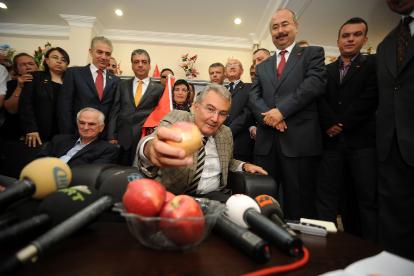 The main opposition Republican People's Party, or CHP, leader's meeting with European Union ambassadors Thursday has ended with no surprises.
CHP leader Deniz Baykal attended a luncheon with EU envoys to Ankara under the initiative of the EU's term president Sweden's embassy. In his remarks reflected in Turkish dailies, Baykal told ambassadors that relations with the EU must be "reset" and there was a need for a new beginning, adding that the current stage must be kept on track.
Sources told the Hürriyet Daily News & Economic Review that the luncheon was part of a routine meeting held by each presidency as a way to exchange views, adding that there were no surprises in Baykal's address.
"It is clear that there has been a stagnation in relations with the EU. There are no conditions that will facilitate a major leap. That has reasons stemming from both the EU and the government. Thus, we cannot be either realistic or optimistic in relations with the EU," Baykal reportedly said.
Turkey and the EU opened accession negotiations in October 2005 but the talks have slowed down since then due to a number of problems, including Ankara's failure to open its ports to shipping from EU member Greek Cyprus, as well as firm opposition from some member states including France.
In his address, Baykal said the debate unfolding in Turkey regarded whether the decision of a country governed by the rule of law, or the decision of the majority would be counted, arguing that Turkey was not more democratic than it was 10 years ago despite the reforms carried out by the government.
He said obstacles were still standing before freedom of expression and judicial independence, adding that freedom of opinion and freedom of expression were not much better than compared to 10 years ago.
"Whatever democratic rights EU countries are offering their own citizens, we want the same for our country's people," said the CHP leader, referring to the Kurdish problem. He reportedly said many people in Southeast Anatolia felt they have no say in the country's future, meaning that they felt isolated. "Our objective to this problem is implementing an integration project. We maintain that ethnic identity should be about unity and integration, not about division," he said.
Baykal also touched upon the record tax fine against the country's largest media holding, the Doğan Media Group, and asked if it was possible to explain the fine as a result of the financial legislation. "Who would believe that? This is a democracy problem," said the CHP leader.