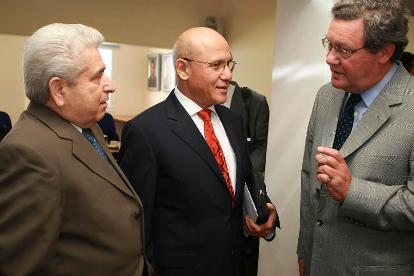 Turkish Cypriot President Mehmet Ali Talat on Sunday met with Foreign Minister Miguel Angel Moratinos of Spain, which will take over rotating presidency of the EU in January 2010.
"I informed Spanish Foreign Minister Moratinos on recent developments regarding the Cyprus issue. Because Spain will take over the EU presidency, it will have significant duties," the Turkish Cypriot leader said after the meeting. "If we can resolve the Cyprus issue, referenda would be held during Spain's presidency."
Talat was expected to meet with U.N. Secretary-General Ban Ki-Moon as Hürriyet Daily News & Economic Review went to press Monday afternoon. Talat was set to ask the U.N. secretary-general to warn the Greek Cypriot administration to hold the ongoing Cyprus talks under U.N. parameters.
"I had a chance to meet with U.N. Secretary-General Ban, Turkish Prime Minister Recep Tayyip Erdoğan and OIC [Organization of the Islamic Conference] Secretary-General Ekmeleddin İhsanoğlu during a reception for the OIC," he said. "During the meeting, I told the U.N. secretary-general that the U.N. should take part in the Cyprus talks more actively."