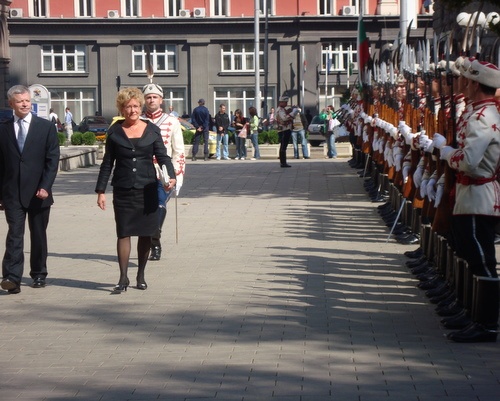 The new Ambassador of Finland to Bulgaria, Tarja Laitiainen, presented last week her credentials to the President of Bulgaria, Georgi Parvanov. The ceremony was followed by a discussion with President Parvanov in the resplendent Presidential Palace.
After the discussion, the Finnish National Anthem was played in an outstanding way in front of the Presidential palace by the orchestra of Guards of Honour.
Ambassador Laitiainen was accompanied by Ville Andersson, Deputy Head of Mission and Jussi Tanskanen, Consul at the Finnish Embassy.
Tarja Laitiainen was born in 1956 in Helsinki, Finland. She graduated in political science from University of Helsinki and joined the Foreign service in 1981. She worked in New York, Peru, Japan, France, and in the EU Commission in Brussels in the 1980´s and 90´s. She was roving Ambassador to Afghanistan and to Pakistan 2002-2005, and Ambassador to Luxemburg 2005-2009.
Tarja Laitiainen is the author of a book on contemporary Afghanistan (published in Finnish). She speaks Finnish (mothertongue), English, French, Spanish and Swedish. She is married and has two daughters.