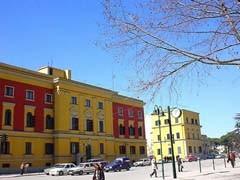 The Tirana-based Macedonian Association ILINDEN strongly denounced the statement by Pandeli Majko, who called on Albanians to burn Macedonian flag.
In a statement to media, the ILINDEN Association also condemned the recent incident in Tirana, where Macedonian national flag was set ablaze.
"We are appalled at this vandalistic and uncivilized act which has no place on Europe's soil," the announcement said.
Macedonians in Tirana say it's thoughtless to burn the neighbor's flag, but it takes a lot of hard work and courage to build sincere and amicable relationship between the two nations.
"We appeal for wisdom and responsibility in public statements by Mr. Pandeli Majko. The Balkans should put behind the history of hatred and wars among nations, as wars brought nothing good to anyone," the Ilinden association said in a statement.