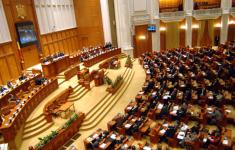 Romania's parliament will hold a confidence vote on the country's shadow government on November 4.
Prime minister designate Lucian Croitoru unveiled his proposed cabinet line-up last Friday. It features only 14 posts, compared to 19 posts in the outgoing government.
Croitoru has chosen to retain seven ministers from the cabinet of acting Prime Minister Emil Boc, whose government was ousted by parliament earlier this month.
It seems extremely unlikely that the new cabinet will receive the backing of parliament, with opposition parties, which now enjoy a majority in the bicameral house, united behind a different prime ministerial candidate
Boc's minority centre-right government collapsed after losing a confidence vote in parliament on October 12. The vote was carried by 258 votes to 176.
The current political crisis comes as the country prepares for a presidential election, scheduled for November 22.