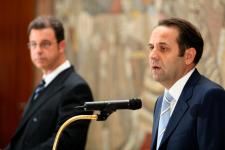 The chair of Serbia's council for cooperation with the Hague Tribunal, Rasim Ljajic, does not know whether Tribunal Chief Prosecutor Serge Brammertz will say that Serbia is fully cooperating with the court.
Brammertz will visit Serbia next Wednesday to discuss Serbia's cooperation with the International Criminal Tribunal for the former Yugoslavia, ICTY, and to gather information for an upcoming report to the UN Security Council.
Ljajic said that he does not expect the Netherlands to change its stance regarding the EU-Serbia Interim Trade Agreement.
The trade pact, which is part of the Stabilisation and Association Agreement, SAA, was signed last spring and immediately suspended due to the Netherlands' strong opposition. The unfreezing of the deal is a formal precondition for Serbia to submit its EU candidacy application.
Dutch Foreign Minister Maxime Verhagen has reiterated that the Dutch are opposed to unblocking the deal before war crimes fugitives Ratko Mladic and Goran Hadzic are delivered to the ICTY.
According to daily Blic, US Secretary of State Hillary Clinton and new US War Crimes Ambassador Stephen Rapp are convinced that Serbia is cooperating fully with the Hague Tribunal and will promote this understanding in order to press the Dutch to allow the unblocking of the trade pact.
The European Commission, EC, in its annual report on prospective EU member states, called on the EU to unfreeze the deal.
Serbian Prime Minister Mirko Cvetkovic has confirmed that Belgrade is doing everything possible to cooperate with the ICTY and that Brammertz would be apprised of the measures being taken.